Do you want to help your team manage email in a shared inbox, without stepping on each other's toes?
Want to see how other companies use Outpost to manage their email and increase productivity?
In a recent virtual workshop, we discussed best practices for setting up your mailboxes in a shared inbox tool. Plus, we'll show you real-world examples of how law offices, online retailers, accounting firms, and other organizations use Outpost to save time and get more done with email.
Watch the video:
Organize your team and your email with Outpost
Most teams struggle to manage their info@ or support@ inboxes. Missed messages, duplicate replies, and inbox confusion are common because traditional email wasn't designed for teams. That's why we built Outpost: to make your shared inboxes truly collaborative.
With Outpost, your team can work together in the same inbox, without sharing passwords or stepping on each other's toes. Outpost is simple because shared email should be. Team up on email, stay organized and take better care of your customers.
If you're interested, you can start a free trial of Outpost today, or schedule a custom tour to learn how Outpost will help you save time and get more done.
Read the transcript:
Peter:
Welcome, everybody.
Jonathan:
Hello, hello.
Peter:
Hello. And thanks for everyone already using the questions panel. So welcome, everybody.
We're going to talk about some Outpost. We're going to talk about some email today. Our title for today and I think we really wanted this to be a workshop concept, but our title for today is Shared Inbox 101: Setting Up Your Mailboxes. And the cool thing I think about this is setting up your mail… We're talking to you, the listener. We're talking to you, who's attending today, your mailboxes. So I think we really want to make this as custom as possible. Part of the idea of today's webinar is that Jonathan was talking about all of these ideas, these types of people that we're encountering out there, types of businesses who are benefiting from organizing their email in a better way. Saving time, being more effective, reaching their customers better, getting a more delightful experience out of that thing you put so much work into because none of us went into business to respond to emails.
Peter:
Well, type in the questions pane if you went into business specifically to respond to emails. I haven't met anyone yet who has, so I want to see. But right, Jon? You've got all this information. You've been dealing with all these different folks and seeing all these people come around to doing better with email and what that means for their business. And that's really exciting to see. So what else are we going to cover today, Jon?
Jonathan:
Yeah, I think this is the first in a new series that we're trying out for you who are signed in with us. This is something new we're trying, a live virtual workshop with attendees who can ask questions on the fly. We can talk about whatever questions come up for you. But it was really about breaking it down to the basics. Sure, you understand how email works. But maybe the concept of working together in a shared inbox with your team and getting things organized and set up to flow correctly, maybe that's a new concept that doesn't feel as comfortable. And perhaps there's even a little bit of hesitancy about, how do I do this? What's the best way to do this?
Jonathan:
So I thought, "Okay, let's get everybody together. Let's invite people to join us, ask for questions, we'll walk through the basics." And so each week we're actually going to be doing this for the next five weeks on Fridays. We'd be happy to have you guys join us for as many of these as you would like. But we're going to systematically walk through the basics of using a shared inbox as a team. I'm going to call it basics and best practices, right? So we're going to understand how things work, and we're going to see how other teams are doing it really, really well. So it's really just to kind of let's strip down the mystery of it, let's talk about how these things work, and hopefully, make you feel more comfortable with setting up your team for success in Outpost.
Peter:
I'm just going to [inaudible 00:04:16] everyone here even though what Outpost is? Let's take a quick look at that. and I know we're trying to keep it at 30 minutes. And everybody, I want those questions in early and often. And frankly, if we don't even get to talking about a topic today, I want to emphasize, we have customer success guides who are here to help you if you have questions to follow up. Me and Jonathan are here to follow up. We've also got weekly workshops like this one coming up in the future. So if the question doesn't come to you in the next 30 minutes, it's okay. Let's keep it rolling. Right, Jonathan?
Jonathan:
That's right. So Peter and I worked for Palo Alto Software. At Palo Alto Software we make products in order to help people succeed in business. And one of those products is Outpost. It's focused on team collaboration, and that's what we're going to be talking about today. Seamless collaboration and a shared inbox tool, that's what Outpost is. And before we jump into everything, I don't know, there's a bunch of different people joining us. Some of you might already have a trial account. You're actively in Outpost today, testing it out, trying it. Others of you may be thinking about starting a trial, trying to consider if Outpost is the right fit for you.
Jonathan:
So I just want to start first by mentioning this, I'll bring it up at the end, if you are in a trial or if you have not started a trial yet, you can start for free and we have a special offer where we're offering 45% off your first year with Outpost. And everyone always gets personalized one-on-one support from our customer success guides. They're happy to answer any questions. So I'll jump right into it, but I wanted to start off with that. All right. So we're talking about these shared addresses, like info@ or support@. You all have these. The question is, where are you collaborating on these shared addresses?
Jonathan:
For some of you, you might be trying some different software. Others of you are using traditional tools like Gmail or Office 365. A traditional email client wasn't designed for teams, though. And so you're probably experiencing the pain point that so many businesses do, which is email comes in, it's not clear who it's supposed to be handled by. Sometimes two people are handling it at the same time without knowing it. Sometimes messages just sit for days and don't get answered because somebody thought someone else was doing it. So all of these tools like Gmail and Office 365, that traditional email client isn't designed well for team collaboration.
Peter:
Something I've seen over your shoulder on that previous slide is that sometimes, some of our listeners today may not even technically collaborate at all. Collaboration might mean if info@ goes to my CEO's inbox for a smaller business, maybe I've only got five employees, but maybe it should be going to somebody else, but the CEO has just traditionally checked that inbox. So just because they're the one who has access to it, they're the one who checks it every day and they sure do wish they could get some help, but what am I going to do? Give somebody else the whole log into the entire account. I use it for other stuff. Oh boy, that's tricky. All right. Well, how do we make collaboration where currently there is none, is another great question.
Jonathan:
Right, and that's where a shared inbox tool like Outpost comes into play because Outpost was designed specifically for, especially for, teams and team collaboration. It makes it easy for teams to handle addresses like info@, support@ without stepping on each other's toes, without missing messages, and, most importantly, without frustrating customers. So we're going to talk about using a shared inbox tool, and how do other businesses set up their mailboxes in Outpost?
That's the focus of today's workshop. In other workshops, we're going to be talking about collaboration, assignments, and notes. Other ones, we're going to be talking about automation, like routing rules. But today we're just talking about, what does that setup look like? How do I get my mailboxes set up correctly? What should the flow be for my team? And so we're going to go through a few examples to help give you guys some inspiration.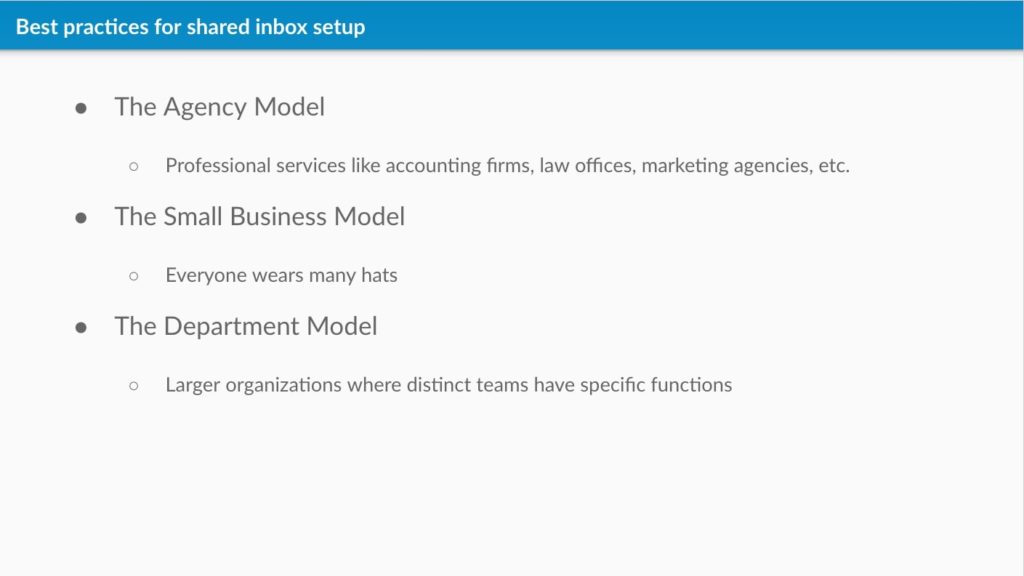 Jonathan:
So there are three best practices for your shared inbox setup, and it really depends on the type of business you have. So I have three different models that I'm going to walk through. One is called the agency model. And this is really for professional services, whether it's an accounting firm, a law office, marketing agencies, businesses like that, that have a distinct client set and are doing project work for a bunch of different clients. That's the agency model. We're going to walk through that model for you. I know that there are a few different accounting firms that are joining us today, so we'll be happy to answer your question as well.
Jonathan:
Then we have the small business model, which is it's a small business that there are a few people in the organization and they actually wear a bunch of different hats. So if I'm in the marketing team, I might be in charge of marketing. But if Peter's out, I'm going to take on some sales questions. Or if our customer service director is gone, I'm going to jump in and answer some customer service emails. We're all kind of sharing responsibilities, and so we need a flow of how to interact with all these different mailboxes together.
Jonathan:
And then the third and final model that we have is basically the department model. That's where you have maybe a little bit larger of an organization, where you have a distinct team with a very focused function, like a customer service team handling support requests. It's a big enough team. That team is specifically in Outpost, and other teams aren't necessarily handling customer service emails. So we're going to walk through each of these models. And at any point in time, if you want to use the questions panel to raise your hand to ask a question, I can pause and we'd be happy to really make this an interactive workshop that is most useful for you.
Peter:
And, Jonathan, I think we're using the word model here, which might make people think that this is some kind of official designation or something like that. Really, we're just grouping people like you into categories of how they use this work. So like Jonathan said, even though we say agency here, we mean an accounting firm or somebody whose client interactions are the number one element of their day-to-day business. Right? Small business means, hey, we all kind of do everything. Even though someone has the job of marketing director, they're often doing sales and they're often doing client outreach and event planning and all that stuff. So how do you make it so these people can still collaborate, even though their roles, they're well-defined, but they're so overlapping with each other? So this should be fun. How do we make this [crosstalk 00:10:54]?
Jonathan:
Well, let's jump in. I think the best way to talk about this stuff is to keep it kind of high level. Let's just walk through the flow of how it works and give you some easy visuals to understand the concepts. And then a little bit later, we can jump actually into Outpost and show you a couple of the mechanics of where this stuff is. So first, the agency model, the example we're going to use today is an accounting firm. They've got a high client email volume. Email is slipping through the cracks. Really, the key here is that there's an inefficient team process for how to handle client communication and, at the end of the day, is leading to frustrated clients. But with Outpost and the way it's organized, that mail is going to be easily organized. There are no more missed emails. A smooth process and client onboarding is the key here. The client doesn't feel a thing, and it's such a smooth internal process for your firm. And you have some team success, and obviously, you have delighted clients.
Jonathan:
So let's take a look visually at this can work for your team. So you got your organization, your accounting firm. The accounting firm team is all in Outpost. And the best model that we've seen for this agency model, these accounting firms and law offices, is to actually set up a mailbox in Outpost for each client. So as soon as your client is onboarded, you say, "Welcome to our firm. This is how we do our business. From this point on, our communication is going to go through this email address. So anytime you need help, email us at your specific client address. This is the one we'll use to communicate with you, no matter who on our team is answering."
Jonathan:
And so, in Outpost, you have the ability to set up every single client mailbox as a distinct mailbox where that email can flow in. It's easy, and that you can see it in a quick snapshot in Outpost which mailbox has new mail in it. You can quickly bounce from mailbox to mailbox so that you can see what's going on, what's new, and what needs to be taken care of. But your whole team has that ability. It's not just one person managing the entire mailboxes set up. It's the whole team that can check and be on top of things and make sure that things are being responded to. So that's the first part is the flow is neatly organized so that you have quick visibility and total visibility.
Jonathan:
And then you have the ability to, as a team, collaborate on these messages using notes and tags and assignments so that it's easy to see who's doing what and what needs to be taken care of. You're not going back and forth on Slack or calling somebody up to ask if they've taken care of something. It's all happening in the inbox, and it's all well organized, and it's an extremely efficient process for your firm. So that's the general idea for the best practice that we've seen for how accounting firms, law offices, how they have Outpost set up, a mailbox for every single client that would be neatly organized and well collaborated on.
Peter:
And, Jonathan, in these cases, are we talking the client email is literally client name at my firm name? So if my client's name is Sally, I have Sally at my accounting firm's name. And they can type their own name in and feel like it's really personalized, like a concierge service kind of thing?
Jonathan:
Yeah, absolutely. That's what we see most common as the best practice for some of the most progressive accounting firms and law offices. They're saying, "Here's your very personal client mailbox that anytime you need help from us, email this address and some …" It feels like, "Hey, our entire company is at your needs. We're here to help. Everybody's here on your team to help." So it really is a nice touch at this point.
Peter:
It feels very personal.
Jonathan:
Yeah, exactly.
Peter:
Yeah, neat. And I actually am looking at this too, and I'm thinking, okay, we're not just talking literally eight clients. But the idea of this firm model here is that you, the person who's listening to us today, has a finite number of clients. Maybe you're limited by the number of employees you have right now. But at any given time, some accounting firms I'll talk to, they're like, "We can't really handle over 300 clients at any given time. So we kind of limit it to about 290, and that's our sweet spot." That's where this model really applies to you. And that's kind of how we're thinking about this, is that there's this limited number, not this infinite number of clients that you might be working with at any moment. So why not give them that extra personalized service if you're going to go through the trouble of optimizing your email communications. It's very cool.
Jonathan:
Yeah, that's right. And I just want to pause here too, and just say anybody who is in today's workshop, please let us know with that questions panel if there are some specific questions that you want us to get to. Why did you attend today's workshop? What were you hoping to learn? Make sure you let us know so that we can answer some of those questions. The great thing about Outpost here is, no matter which model we're talking about, Outpost lets you connect an unlimited number of mailboxes. So you really can design this to work the best way for you, and we don't charge you for additional mailboxes. It's unlimited. It's free. You just keep adding whatever mailboxes you need so that you can make your management process as efficient as possible.
Jonathan:
All right. I wanted to point out that we do have some customer stories on teamoutpost.com. And so we actually have a story about how an accounting firm has simplified their email, so I welcome you to read that case study. We can send those out to you in a follow-up email. But this is real. This is how actual businesses are handling email with Outpost. So let's move now into more of the small business model. So you might have a smaller company where everybody's wearing multiple hats. For this example, we're just going to use a vacation rental company. So it's a small team of about 15,20 people, and everybody's wearing a bunch of different hats. They all need to see what's coming into all of their mailboxes so that you easily collaborate and handle messages as they come in.
Jonathan:
Before Outposts, there was a lack of visibility. If somebody was out sick or on vacation time, maybe they're not managing a mailbox during that time. So maybe just people forget to check it, and so now you have some disorganization and you have frustrated customers. But with Outpost, you're getting total visibility. There's a smooth flow. It's an organized, obvious way that email is set up, and you have happy customers because you're able to respond to any email quickly. So again, let's go through the visual of what this looks like for that team wearing multiple hats.
Jonathan:
So your whole team is in Outpost, and you have functional addresses based on the specific type of business function that you're performing, whether it's booking reservations or dealing with guest services. In other small businesses, this might be your marketing@, this might be your info@. You need everybody on the team to have access to all of those mailboxes so that everybody can see what's happening. And that's really what this setup is.
Again, just the mail is neatly organized in each of those functional addresses so that the whole team can see it and easily move between basically those department or functional needs. It's organized, and you can collaborate with those notes, tags, and assignments. So everybody's wearing multiple hats, can easily assign each other and say, "Hey, I need help with this. Can you answer this because I'm going to be out on Friday?" Whatever it is, everybody has access to it.
Peter:
This is great. And, Jonathan, I said earlier, the idea of a CEO who checks the reservations or a co-founder who feels like it's absolutely critical that I get back to my customers as quickly as humanly possible. I've met people like that, where that's that's the drive of those co-founders. So you get these two co-founders who are responding to reservations, even though they have a person in charge of bookings, right? These are the same co-founders who might be, in this case, cleaning the rooms when someone else hasn't gotten to it. It's like everyone's doing everything, but the core functions of the business are located in these different email inboxes, and everyone or some people can get to all of these core functions as quickly as you want them to, as efficiently.
Peter:
And then the thing I really want to emphasize that's cool about this is the co-founder can look at the responses that their employees are sending and they can say, "This is great," or, "Maybe I should write a template for this kind of output," that kind of thing and be participating, instead of just sending it right out of their own inbox and it's kind of isolated. It's all on them. It's not distributed across the team. So this is a great way of thinking about how email can really change the nature of how your team works. And I always love this model.
Jonathan: Yeah, this is a good one. And it works for a lot of different small businesses. But let's talk about larger organizations, maybe ones that have distinct teams. Again, this is another case study you can read if you'd like to see how a vacation rental company is able to save 40 hours a month with Outpost. But let's talk about that department model, where we have maybe a customer service team that is responsible for managing all of the customer service emails. Before Outposts, there's high email volume, that's confusing back and forth. For the customer service manager, there's no good tracking to see how the team is doing with responding to emails. And you have irritated customers who are waiting for responses or maybe getting inaccurate responses.
Jonathan:
But with Outpost, because everything's all one place, again, you've got that organized process. The team manager has access to analytics to see how quickly the team is responding to messages. And you've got some satisfied customers because everybody on the customer service team is able to reply with the most professional replies. They're able to reply as quickly as possible and really take care of the issue. Basically, they're replying faster without sacrificing quality is really the key here for these teams. So what this looks like is, in Outpost, you might actually have distinct teams.
Jonathan:
And so for a moment, we're just going to focus on the left side of this of saying, "Okay, we've got a customer service team with a customer service mailbox." So they're handling that support and orders at because they're dealing with customer service and order fulfillment. Separately in Outpost, you can set up another department and another team of marketing and sales, and they can be paying attention to their marketing and sales mailboxes. When you split it up by department, you're managing permissions, you're keeping your teams focused on the email that they need to focus on, and you're making it possible for everybody to still collaborate and get more done as that email flows in.
Jonathan:
So again, this is sort of when you get into a larger organization, once your business has grown, this is how you scale that up with Outpost. You focus your teams and your departments around these specific functional mailboxes, and you're still letting everybody be all in the same place without stepping on each other's toes. Those are the three best practices depending on your business, whether you're professional services or if you may be more of a small business, whether you're wearing lots of different hats or if you're a specific team in a larger organization. These are kind of the best practices for how you can set up Outpost to be most efficient, most organized, and help your team succeed.
Jonathan:
And we have, again, one more customer story here where we can talk about an online retailer whose response time was able to drop down to just 20 minutes because of Outpost. So definitely check out our customer stories and read from their examples because they're great for sort of communicating those best practices. Now in just a few minutes, I want to answer some of the questions that I've also heard from our customers and trial users, which is, how does this actually work? What is the process for email coming into Outpost and going out of Outpost? And so very quickly, I just want to show you some of the basics, again, using some simple visuals to help you understand, how does is the flow of email work once that's set up these mailboxes?
Jonathan:
So with Gmail and Office 365, we have a direct sync. I'm going to try not to use too much technical jargon, so forgive me if I slip into that every once in a while. But this is a direct sync with Gmail and Office 365. And let's take a look at an example here for if you have a Gmail connected mailbox. On the left side here is what your customer sees. They send an email from their email address to you at your company. They're sending something to the sales department, and they get an email back from the sales email address. For the customer, it looks and works just like email. Everything looks exactly as they would expect it, nothing is different.
Jonathan:
And then on the right-hand side here is what's actually happening with that email. So that email comes into sales@yourcompany.com. That's a Gmail hosted email address, and Gmail is directly sent with your Outpost account. So you and your team are opening Outpost, and you're checking your mail, and it's directly synced with what's coming in and going out of email. So you can send a reply in Outpost and Gmail sends that reply. Everything is directly connected, and there's a back and forth sync. They're really straightforward and really simple. To connect a Gmail mailbox, all you're doing is adding your Gmail credentials, you allow Outpost to connect, and it's done. It's connected. It'll bring all of your Gmail mail in, and everything is just perfectly synced up.
Jonathan:
The same goes for Office 365. If you have an Office 365 account, again, it's a direct sync. You're just logging in with your Office 365 credentials, it connects the mailbox in Outpost, and your team is able to operate in Outpost, directly connected to your Office 365 hosted account. Before I move on to any other examples, are there any questions about that? Any of you Gmail users or Office 365 users who want to get some clarification on something?
Peter:
Yeah. Jonathan, in the questions pane, it looks like a lot of folks are just leaving comments, which is great and nice. So I'm responding to folks who are commenting. I will say one thing that's great to point out at this point. Jonathan mentioned that starting a trial of Outpost is risk-free because it's free. When Jonathan says, "Syncs with your email," we also mean that we're just exchanging data back and forth. I don't want to encourage you to do this, but if you start your Outpost trial, you get in and you sync up your inbox and you try it for a few months, you can always go back to your old inbox.
Peter:
We haven't taken it over. We're not permanently installed onto something like that. This is a web-based app that you can access from your mobile phone, from your computer, and you can always go back to what you were doing before. So it's also risk-free in a logistical or in an organizational sense. Again, I don't want to encourage you. I think you'll love it once you get in. But feel free to check it out in that way as well and feel reassured that what we're talking about here is that we're just interfacing with your current email. That's it, just making it better.
Jonathan:
Yeah, that's right. And it's a good distinction to make as we transition to the next example because Gmail and Office 365, with that direct sync, that means Gmail or Office 365 never stop posting your email. That is where your incoming email and outgoing email lives. You can think of Outpost more as a layer on top of it, which is where you're working from and why that direct sync is great for those two service providers. Now, what if we don't have Gmail or Office 365? We still have a great way for you to use Outpost, and lots of teams use this method. If you have another email provider, basically what you're going to do is set up a forwarding process with Outpost. And so let's walk through what that looks like.
Jonathan:
So again, on the left-hand side, I want to stress this, this is what your customer sees. They email you at your company, and when you respond, they get an email back from the same address. Nothing looks different to them. They see exactly what they would expect. But let's go through what's actually happening on the backend if you're using another provider. So that email comes into sales@yourcompany.com. And I'm going to use Rackspace as an example. You might have GoDaddy. You might have some other web hosting domain, that's hosting that domain and your email. And so when that email comes into sales@yourcompany, your hosting provider receives that email. And in Outpost, you will have set up an Outpost hosted subdomain, So yourcompany.teamoutpost.com. That's your address in Outpost. So Rackspace gets the email from the customer and forwards it to your Outpost address.
Jonathan:
And then when you reply back, you're going to do one more piece of setup when you're setting up Outpost. You're going to change your Rackspace settings so that when you send a response, it goes from your Outpost mailbox and using, I'll try to avoid too much jargon, but it's an SMTP server. It basically tells Rackspace, "Okay. It's okay to send this email as your custom domain." So it goes through your hosting provider, names your email as your company domain email so that's exactly what your customer sees. They never see that backend happening with Outpost. They probably don't even know what Outpost is, and that's okay. They're seeing your email response.
Jonathan:
So again, that's kind of the flow and the process for the setup. And it's really easy to do that too. And I don't think anybody here should feel daunted about that setup. Especially because we have customer success guides who are able to help walk you through every step of that process and will make sure that you have that successfully set up. So that's what's actually happening. And really, Peter, that's what I wanted to talk about in today's workshop. I wanted you to understand the best practices for how these different organizations set up their mailboxes in Outposts. And then for anybody who is curious, I wanted you to understand, what does the flow of email look like in a shared inbox tool like Outpost?
Peter:
Yeah. Hey, Jonathan, and while I ask you a couple of questions, why don't you just get in the tool and kind of show them how cool their life can be once you're inside Outpost. What does all this mean in real life? What does this look like? So it's been an extra minute. If everyone doesn't mind, we're going to go over time just a little here. We'll spend an extra minute just taking a look at what Outpost looks like for you. Imagine yourself in, and let this experience guide your questions. We want to follow up with you after today. If you've got time, we can set up a time with our customer support experts. We can guide you through the process. We've got Cassie, we've got Stormy, we've got me, Peter, we've got Jonathan, all here to help with anything that comes up for your needs. But check this out. See what it looks like. It does look like email, but you can kind of see some of the major features that Jonathan was alluding to earlier when we look at this Outpost screen here.
Jonathan:
Yeah. And again, because we're going to focus on setting up the mailboxes in today's workshop, I just want to focus on that for now. We'll talk about collaboration and assignments and all that stuff later, but just see what it looks like to have your mailboxes connected and working in Outpost. I can easily toggle between which inbox I'm working in Outpost. I can see what's unread. So I can see that there's a message in the info@ that I need to take care of. I can see that Nicole's mailbox has 14 in it. I'm able to quickly see at a top-level what's coming in and what needs a response. And then let's look at the backend here and show where those mailboxes are set up and how it works. I'm not going to dive all the way into it. Again, if you want help with your specific setup, we are more than happy to talk to you one-on-one and actually work with you to customize that perfectly to your needs.
Jonathan:
But you can see here that I've got four Gmail mailboxes connected. They're directly synced. The mail is coming in and going out via Gmail. And all I had to do was log in with my Gmail credentials to connect it once, and then it works. And then you see, I have a forwarded mailbox where mail is coming into my subdomain. I use it as a vacations.teamoutpost.com. That's my Outpost hosted domain. And I can forward that out. You can see right here is where I can do that second step. I can say, "Yeah, but I want it to come from easydesertvacations.com." So I could forward that, set up the forwarding with my hosting provider, and send it as my custom domain, as opposed to my Outpost email address. So again, you can connect an unlimited number of mailboxes here, and Outpost can handle it. It's free to add as many mailboxes as we want, and it works really simply.
Peter:
Yeah. In brief, let us help you get your whole team centralized into one email location, get you all looking at the same work, get you all optimizing that output. And I know we've talked a lot about email today. But honestly, if I can say this as our closing remark, for you who have attended today, for you that have left comments, for you that are going to follow up after today, we're actually trying to get you to think about email less. Spend less time dealing with email. Get back to the thing that you went into business. Get back to the thing that you love and do well so that email can do its work, and Outpost can help you do that. That's what we're here for. Thanks for listening today. Jonathan, any closing remarks here? I think we've done a good job with this workshop. I feel like this is a lot of information that's often just kind of in your head. You see people doing these great things. I'm glad we got a chance to express it today.
Jonathan:
Yeah, that's right. I think I want to just impress upon you that Outpost is the easiest, most intuitive shared inbox tool. It works and feels just like email. There's no learning curve for your team. They understand how it works intuitively, and it just allows that total visibility and collaboration. Just a reminder here that, if you haven't already, you can start a free trial. Again, you can connect those Gmail or Office 365 mailbox easily. If it doesn't work in your trial, you could disconnect them, and that's okay. But the special offer here that we have for you is, if you sign up and you decide to get started with Outpost, you can have 45% off of your first year with Outpost. Our team of customer success guides are ready and able to jump on a personalized call, where we can talk about your custom setup and walk you through every step of the way. So really, just let us know if you have any questions or need any help getting started, and we'll be there.
Peter:
Good, Jonathan, love to hear it. I think with that, let's say thanks to those who attended today. Thanks for the interactions. We appreciate it. Thanks for the questions on an ongoing basis. We're going to keep following up as we go into the future. We are here for you. I believe that you can do this. I believe in your success. Good luck. Good luck with the rest of the day. Signing off, Jonathan. Good to see you too.
Jonathan:
Thanks, everyone. Bye.