If you're trying to share Gmail for a team email like info@ or support@, a Google Groups collaborative inbox can help solve that problem. With a collaborative inbox in Google Groups, you can assign emails to team members, just like a task. And, just like tasks, you can "resolve" emails when they are complete.
Using a Google Groups collaborative inbox is a better solution than sharing your Gmail password. Sharing passwords is never secure and you won't get any of the assignment functionality in Gmail that you can get in Google Groups.
Here's how to set up a Google Groups collaborative inbox – whether you're using the paid version of Gmail (G Suite) or just have a free @gmail account:
1. Go to groups.google.com and log in
2. Click "create" at the top of the page
3. Choose a name for your new group
This might be something like "Info at ACME Corp" or "ACME Widgets Support."

4. Create an email address for your group
If you're using the free version of Gmail and Google Groups, your email address will be an @googlegroups.com email address. If you're using G Suite and have a custom domain name, you'll be able to create a branded email address like info@mycompany.com

5. Enter a brief description for your group
This is really for internal use, so you don't need to worry about adding marketing language here.

6. Choose your primary language
7. Choose "Collaborative Inbox" as your group type
This is the key step that converts your Google Group from a standard email list into a collaboration tool that lets you assign emails to your team.

8. Modify the "participants" drop-down
If you want to limit who can assign and receive tasks, you can modify the list in the "participants" drop-down. If you want everyone to be able to assign and receive tasks, leave all three user groups selected. If you want to limit that functionality to either group managers or group owners, you can do that here. Don't worry, you can change these settings later if you're not sure what's best for you at this point.
9. Change your Group Visibility
Assuming you don't want your group to show up in Google Search, change Group Visibility to "All Members of the group" to keep it private.

10. Adjust Topics and Join the Group settings
For Topics and Join the Group, the default settings are most likely fine to leave alone. The language Google uses here might seem a bit confusing, though, because they're using language for message boards to describe email. Don't worry about that. Here's a quick translation. "Topics" are email threads. "Post" means to send an email. And "Join the Group" allows you to share access to your collaborative inbox.

11. Adjust Post permissions
Important: You need to change the Post permissions if you want people outside of your business to be able to email you. Make sure to add "Anyone on the Web" as an option here.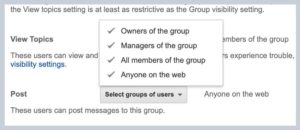 12. Click "Create!"
When you're done setting things up, click the "Create" button at the top of the page.
Congratulations! You've now created a collaborative inbox in Google Groups. Send a test email to the new email address that you created to make sure you got all the settings right and so you can play around with the collaborative inbox features.
You can assign an email to a teammate using the "assign" feature. "Take" means "assign to me." Use the "drop" feature to un-assign an email assigned to you.
The Google Groups collaborative inbox doesn't look like regular email and doesn't act exactly like regular email, so it may take a little getting used to. Send yourself a few test messages to get the hang of it and see how it works for you.
Pro Tips
Use "filters" to view only messages assigned to you or messages that need a reply. You can also see messages that haven't had a reply in a certain amount of time.
Try the move feature. If you've created multiple collaborative inboxes, you can "move" a message from one inbox to another so that a technical support email that accidentally got sent to sales@ can easily be moved.
Create a custom email footer. Click on "manage group" in the upper right and then "Settings" and "Email Options" on the left. You can add a custom, standard signature to your inbox here.
Change your notification settings (and tell your team members to do it, too). Use the "My Settings" menu in the upper right and the "Membership and email settings" to customize how you are notified of new mail in your collaborative inbox. The default is for you to get a copy of every new mail in your regular email. Maybe you want this. The trick is to be sure to NOT reply to emails from your personal email inbox because then no one will know if the copy of the email that's in the collaborative inbox was answered.
Issues with Google Groups to be aware of
"Completed" or "resolved" emails stay in the mailbox. There's no way to archive them. This can lead to a cluttered inbox and the only real solution is to actively use filters all the time.
The interface just isn't great and not nearly as fast and efficient as a typical email client. If you're used to Gmail or any other email tool, you'll find the Google Groups interface clunky and outdated which reduces productivity.
There's no easy way to see who is assigned to which emails. You could set up a filter, but this is time-consuming. Or, you could click into each email to check – also not a great option.
Another productivity killer is how confusing the interface is. Your team will have to learn an unfamiliar system.
There are no internal notes or other ways for your team to collaborate on emails or share insights with each other.
There are no collision alerts to let you know someone else is actively replying to an email. You can still accidentally send two responses to the same customer.
As I mentioned above, customer emails can easily be answered in your team members' personal inboxes, outside of the Google Groups interface, removing accountability and transparency.
You can't compose a new message, only reply to emails your customers send in.
Your sent emails will contain "unsubscribe" links.
Alternatives to Google Groups Collaborative Inbox
It's worth looking at other options to Gmail's solution for collaboration if you're trying to give access to an email inbox like info@ to your entire team. There are options that provide a better interface, more accountability and transparency, and are more efficient for your team.
We recommend Outpost to solve the headache of shared inboxes and boost team productivity. With Outpost, you get:
Give your team's productivity a boost and learn more about Outpost.
Posted in: Email Productivity