Outpost was designed to help teams save time by managing email efficiently and productively. But, you probably don't run your company with just email. You probably use other tools for project management and other ongoing work. So, it's important to ensure that your team is using all of your tools together to streamline work and avoid communication silos.
If your team uses Asana for project management, you'll want to take a few simple steps to make sure you use Outpost and Asana together effectively, getting the best from each tool.
Don't keep action items isolated in your inbox
If you're using Asana to manage client work, it's recommended that you create a "Project" for each client so you can assign, complete, and track a list of ongoing tasks, shared documents, and internal discussions with your team. Each Asana Project is meant to represent all past, present, and future work you've taken on for each respective client.
When you receive an email in Outpost, turning it into a Project task or conversation in Asana is shockingly simple, and ensures that your work is not isolated to your inbox.
The following article will show you how to turn emails into Asana tasks, as well as a few other "Pro tips" to help you make the most of using Outpost and Asana together. You can also use these links to jump ahead to specific sections:
Set up your Outpost + Asana connection in two steps
1. Add email addresses to your Asana account
Once you start using Outpost and Asana as a team, the first thing you'll want to do is add and verify your company's email addresses in your Asana profile settings. These email addresses may be your general addresses (like info@ or accounting@), and may also be client-specific email addresses you've set up to keep client communication streamlined and organized:
By adding these addresses to your Asana profile settings, you will be able to send emails from any Outpost mailbox directly to Asana, automatically creating tasks or conversations, even within specific Projects.
In Asana, from the Email Forwarding tab, you can:
Choose which list that your emails sent to Asana creates tasks in
Add an email address to your account
Remove an email address from your account
Each time you add an email address in Asana, you'll be asked to verify that email, which you'll find in its respective Outpost mailbox:
2. Save every Asana Project task email address in your Outpost Contacts
According to Asana's help article, "you can send emails to create tasks directly in any Asana project. Every project in Asana has a unique task email address (x+ProjectID@mail.asana.com), which can be used to create tasks in that project."
In Asana, to find a project's unique email address:
Click on the drop-down arrow beside the Project name in Project Actions
Click on Import and then choose Email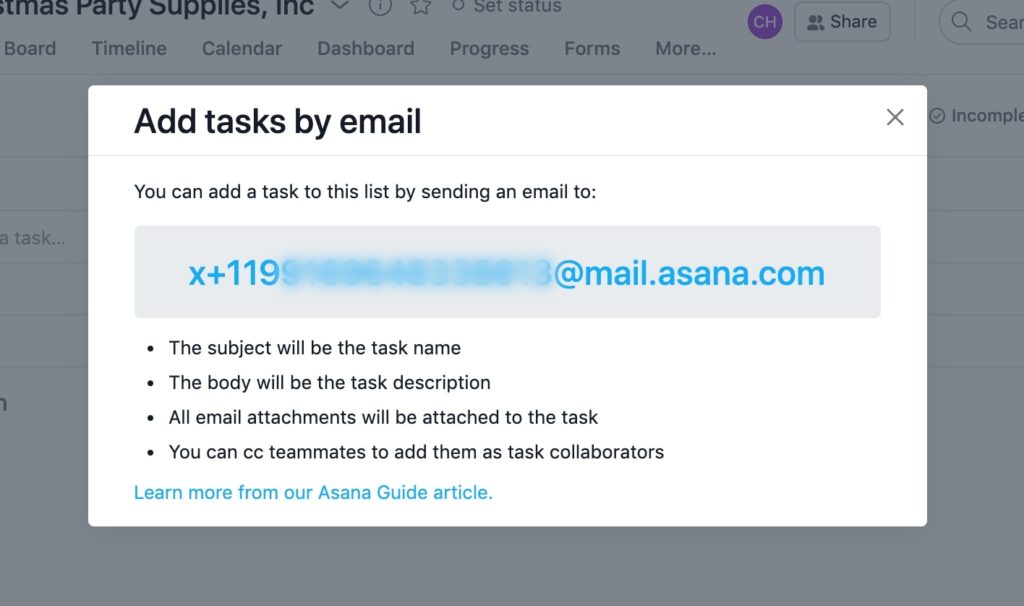 You'll want to copy that unique email address and save it as a contact in Outpost.
In Outpost, to save your Project's task email address as a Contact:
Click Contacts in the top navigation bar in Outpost
Click New contact and add any relevant information to the contact record
Click Save
Pro tip: use the First name field to clearly identify this contact record as an Asana Project email, so that you don't have to memorize its random string of numbers. For example, "(Asana) Client Name" (see image below). This will come in handy later!
Process tip! Every time you get a new client, this will be a repeatable process that you'll want to add to your client onboarding checklist: 1) Add your company's client email address to Asana; 2) Save the unique Asana Project email address as a contact in Outpost.
Turn Outpost emails into Asana Project tasks
To create a task in your project via email, send (or forward) an email to x+projectID@mail.asana.com. For example, if your projectID is 123, you would email x+123@mail.asana.com. Please note that X is not a variable — that's what makes it a task email address for your project.
Here's how Asana will interpret your email and automatically create it as a task:
| | |
| --- | --- |
| Email field: | Task field: |
| Email to x@mail.asana.com | Task in My Tasks |
| Email to x+[ProjectID]@mail.asana.com | Task in Project Tasks |
| Additional address added in the To: field | Task assignee |
| CC'd email recipients | Task Collaborators |
| Email subject | Task name |
| Email body | Task description |
| Email attachments | Task attachments |
Here's an example of what it looks like to forward a client email from Outpost to Asana:
And here's what happens in Asana as soon as you hit send: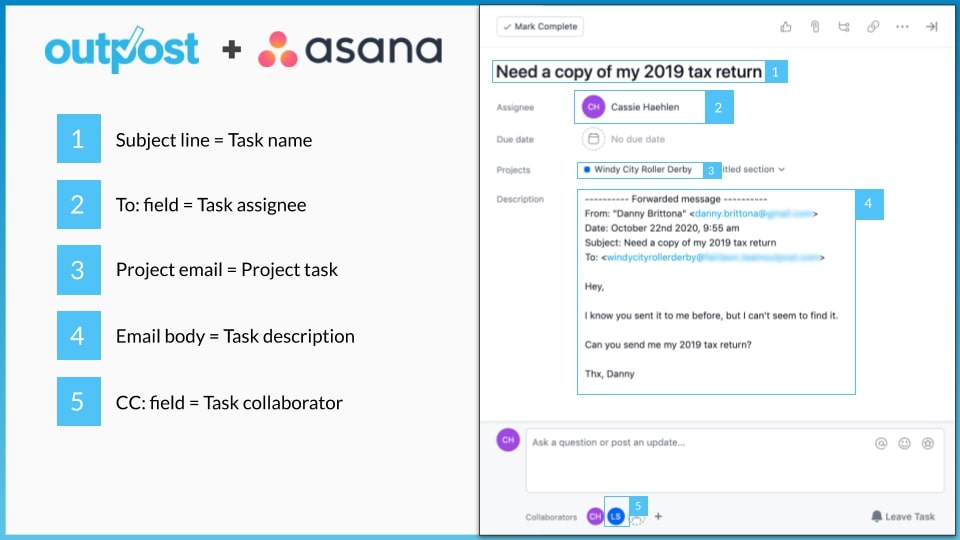 Forward Outpost emails to Asana Project conversations
If you receive a client email that doesn't represent a discrete task, but still includes relevant information that you want to make sure is recorded in its respective Asana Project, you can forward that email to your Project's conversation page.
In Asana, at the bottom of every project's Conversations page, there is an email address listed. The email address for any project Conversation is [ProjectName]@mail.asana.com:
Outpost + Asana pro tips:
Forward Outpost emails to Asana Team conversations
If your team has an internal email thread that represents relevant information about how you track and complete work in Asana, you can forward that email to your Team's conversation page.
In Asana, at the bottom of every Team's Conversations page, there is an email address listed. The email address for any Team Conversation is [TeamName]@mail.asana.com:
Auto-forward Outpost emails to Asana Projects:
You may have certain emails that should always be turned into tasks within an Asana Project. Those may be emails from your client's billing@ address or any time a specific point-of-contact reaches out.
You can create an Email Routing Rule in Outpost to automatically forward these messages to the unique Asana Project task email address:
In Outpost, to create an auto-forward rule to a Project task email:
Click the drop-down arrow beside your name in the top-right corner of Outpost
Choose Rules from the menu
Give your rule a unique Name
Add whatever conditions that will need to be met in order for the Rule to be applied
Add any actions you want to be applied to the email in Outpost (add a tag, assign, star, etc.)
Add Forward to as an action and include your Project task email as the destination address
Once you save that rule when an incoming email meets the rule's conditions, then your rule will be applied and the email will be auto-forwarded to the Asana Project email address you've specified.
Your whole firm working together in Outpost
Most firms struggle to manage their accounting@ inboxes and never-ending client email. Missed messages, duplicate replies, and inbox confusion are common because traditional email wasn't designed for teams. That's why we built Outpost: to make managing client email truly collaborative.
With Outpost, your team can work together in the same inbox, without sharing passwords or stepping on each other's toes. Outpost is simple because shared email should be.
Take the pain out of managing client email so your whole firm can see everything in one place, respond quickly, focus on billable work, and provide excellent service.
If you're interested, you can start a free trial of Outpost today, or schedule a custom tour to learn how Outpost will help you save time and get more done
Posted in: Outpost Productivity