How to Make Email Your Best Customer Service Tool
When you're building your customer service for your small business, it's tempting to think that you have to cover all the bases—run a phone queue, offer live chat, and email support. But a small team can get stretched pretty thin trying to cover all these channels, especially if responding to customers needs is only one aspect of your role.
You don't have to offer support over multiple channels to provide great service. If you want to prioritize efficiency, personal service, and good communication with your customers, start with email.
It's not time-bound
With phone and chat support, your customers have to wait until your offices are open before they can reach you. With email, they can reach out any time of day that's convenient for them.
This flexibility is especially useful if you have customers in different time zones. Because they can get a message to you any time, customers feel like they've been heard, which is not the case when they call you and get a voicemail or an automated phone tree.
Not only that, with an asynchronous communication tool like email, your customers will have some expectation that there will be a short delay before they receive a response. Of course, it's always best to respond as quickly as you can, but email does allow your team a little breathing space for researching or brainstorming solutions to issues.
Automate processes without hurting relationships
Most of us have had the painful experience of calling a customer service line, only to be put through a recording telling us to "press 1 for this, press 2 for that, and now please hold for the next available agent." This kind of automation may save a company time, but it can be a wholly unpleasant experience for the customer.
When you offer email support, on the other hand, you can automate your processes without losing the feeling of personal service. You can, for example, set up email templates for replies your team sends frequently. Your team can start with these "canned" responses and then customize them to the customer at hand. It saves time, but your customer still experiences the response as personal.
You can also use email autoresponders to help set expectations. You can set up a brief reply that thanks the customer for writing, lets them know what your business hours are, and when they can expect a reply. Practices like these help a small team grow the relationships with their customers.
Make complex messages bite-sized
There may be times when you need to send your customer a particularly detailed message. But not all of your customers want to read a long email. In these cases, email is unsurpassed for letting your team format lots of information into short, easy to digest messages.
You can, for example, create visual separations between points in a complex email by using your emailer's native editing tools, like bold type, bulleted or numbered lists, and indenting.
You can easily drop in screenshots to illustrate a point. You can include links to videos articles or your company's FAQs. All of these tricks help turn long emails into shorter ones, and busy customers are much more likely to read them.
Here's a great template trick: if you have long, detailed passages of information that you use often, instead of putting them in email template form (which results in a long email), set them up as PDF documents instead.
Then your team can attach these to brief emails. Give the customer a quick summary of what's in the attached document, so they can decide when they want to read it. That tiny amount of choice greatly increases customer satisfaction.
Track, search, and share conversations
Obviously, email creates a written record of everything you and your customers say—an archive that's growing all the time. That archive can come in handy to your company if you can extract the information you need from it. That's where tools like tagging and saved searches come in handy.
If you're using Outpost, you can add tags to email conversations, which lets you group them by theme and easily locate them later. You might tag complaint and suggestion emails, for example, so you can comb through them later to help you develop updates to your product or service.
You can add tags for any information that's important to your business, like locations, upcoming company events, products, and so on. Here's an example from a vacation rental company, using tags for the property and the nature of the email:
If your email tool has the ability to save searches, that works a lot like tagging. You can set up a search for any parameters you need, and then check in with that saved search periodically to see the newest emails included in it.
Here's another example from Outpost, where our sample vacation rental company has set up a saved search for one of their properties, for a specific month. That helps them monitor how much demand they're seeing for that property:
Email can also be an easy way to share customer input with your whole team, assuming you have the right tools. In Outpost, for example, you can add internal notes to an email and then assign it to another member of your team who needs to see the information.  
This is cleaner than simply forwarding because you can keep internal conversation separate, and there's no danger that your customer will see it: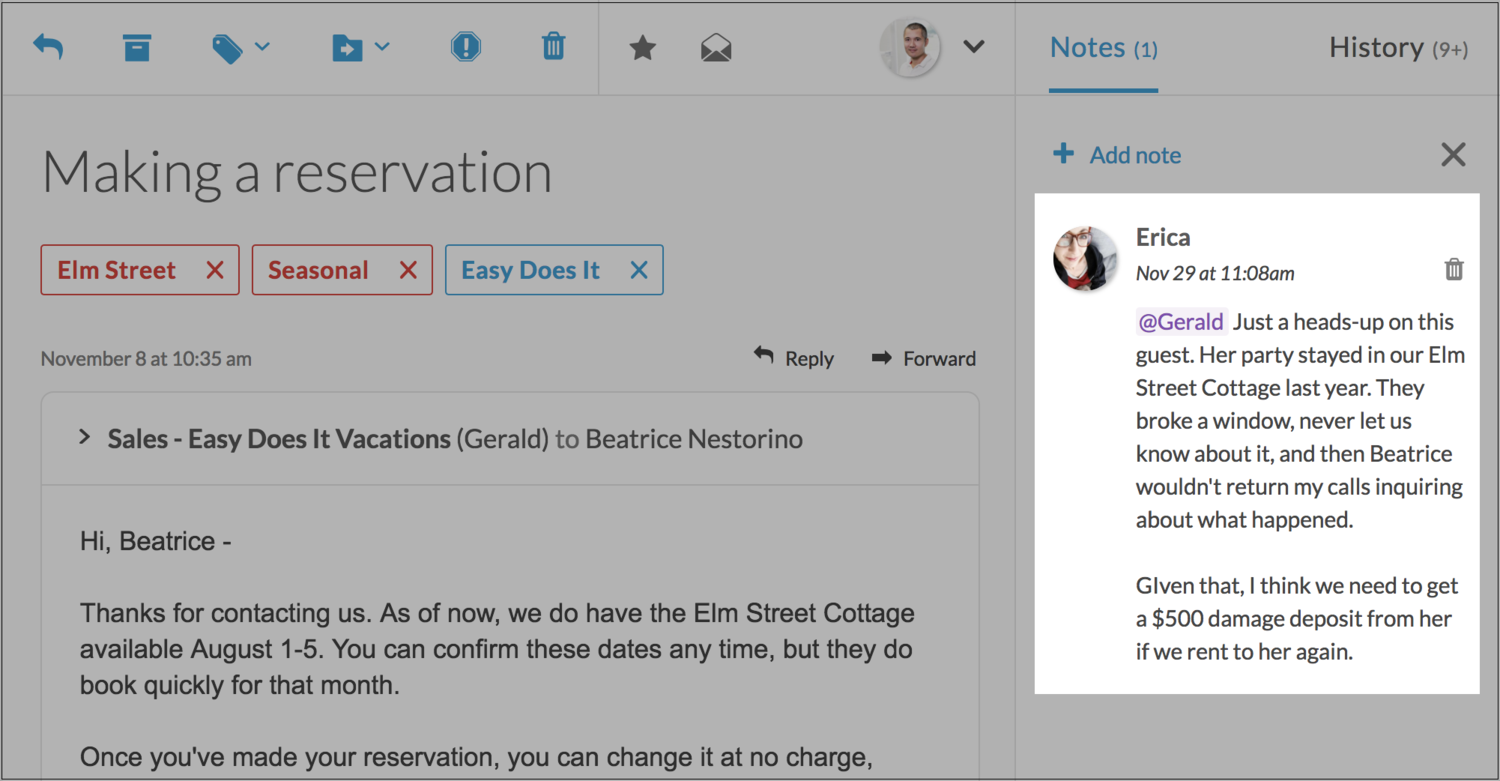 Create more customer happiness
Finally, email offers several easy, efficient ways to delight your customers.
For example, you can attach surprises to any email. If you want to reward loyalty, make up for a not-great outcome, or just make a customer's day, you can set up coupons, promo codes, or digital freebies. Give your team the freedom to share these in emails—it's a kind of service you can't do over the phone.
You can also do unobtrusive follow-ups with email. Once you've resolved a customer's issue, set yourself a reminder to send them another message a couple weeks later, asking whether they're still happy with the outcome and if they need anything else. Even if they don't answer, seeing that evidence that you care will go a long way toward deepening their engagement with your company.
Your team can also wrap up emails with an offer to get on the phone with customers to assist further. This way you can still offer phone service to those customers who prefer it, without having to maintain a full-time phone bank.
Quality beats quantity
This is actually an interesting time for email—so many companies will immediately put you on a marketing list the first time you interact with them.
Seemingly, everyone receives a lot of marketing email these days. The secret upside to all this, however, is that when your customers' inboxes are packed with marketing, you can easily to stand out from the crowd by simply sending a personal email.
Try these tricks for improving your customer service emails, and you'll see how email can become your company's best customer service tool.
Posted in Customer Service, Email