If you or your team use Thunderbird, Mozilla's desktop email client, you might be interested in creating a unified inbox to manage multiple email addresses in a clean, organized view.
Does Thunderbird have a unified inbox for teams?
Mozilla Thunderbird allows individual users two different ways to consolidate multiple email accounts into a unified inbox: a "unified view" or a "global inbox." Each option is an individual setting and does not include any collaborative features for teams who manage shared email addresses like info@, sales@, or support@.
In the article below, I'll explain the following:
What's the difference between a unified view and a global inbox?
Setting up a unified view in Thunderbird
Setting up a global inbox in Thunderbird
Should your team use Thunderbird for shared email?
What is a Thunderbird unified inbox?
Like several other email clients, Thunderbird allows you to connect email accounts from multiple email providers. That's really helpful if you manage email inboxes in Gmail, Outlook, and elsewhere. You can connect each of them, including your business email, in Thunderbird and no longer have to log in to separate platforms to see all of your emails in one place. 
After connecting multiple accounts however, the view of separate inboxes and trash folders is pretty messy. Plus, it's an extra click to go back and forth between mailboxes just to read what's new: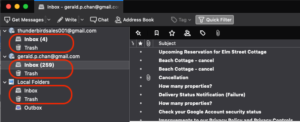 You and your team may want a unified inbox, which gives you the ability to view all of your email messages from all your accounts in one manageable list. That's why Outpost, our shared email tool for teams, has a unified inbox view by default. 
You can accomplish this in Thunderbird too, although it takes a little bit of work. But "unified inbox" is actually a term that mixes up two different options that Thunderbird has for you. The first option is called a "unified view" and the second option is called a "global inbox." 
What's the difference between a unified view and a global inbox?
Think of the unified view as more of a quick filter for your email folders. Your email accounts can all be connected differently (some using an IMAP connection, some with POP), and you can easily toggle your view based on your preference. For instance, some Thunderbird users prefer to use the "Unread" view and then switch to the "Unified" view during the same working session:
A global inbox, on the other hand, is a bit more technical and affects where your message files are stored. Choosing a global inbox will reroute all of your incoming emails to be stored in one local folder on your computer. 
A global inbox requires the use of POP (more on this later), and in order to use a global inbox, you'll need to change the "Advanced" storage settings for each of the email accounts you want to manage in the global inbox:
Setting up a unified view in Thunderbird
A unified view is a setting that simply takes all of your messages and puts them into one list (View > Folders > Unified) in Thunderbird.
To view your mailboxes in a unified view, complete the following steps:
Click "View" in the menu bar at the top of your screen

Choose "Folders" in the sub-menu

Select "Unified" 
Now you'll see all of your email accounts aggregated into one inbox view:
Note: You can still view each separate inbox as a subfolder under "Inbox," if you click on the dropdown menu to the left of the Inbox label:
If you don't like the Unified View, it's easy to go back to the original view. Here's how:
Click "View" in the menu bar at the top of your screen

Choose "Folders" in the sub-menu

Select "All" 
For more details on changing your Thunderbird unified inbox view settings, you can review this article from Lifewire.
Setting up a global inbox in Thunderbird
The other option you have to consolidate your view is to set up a global inbox in Thunderbird. This option is not actually something I'd recommend. Here's why:
A global inbox will only work with email accounts connected via POP, which is an outdated technology that most email services don't even support anymore. 
With a POP connection, your emails are saved and stored on your local machine. This could cause issues if you like to check and manage your email on multiple devices (mobile, desktop, tablet, etc.).
Even so, if you'd like to know how to do this, you can read Mozilla's support article with instructions and screenshots.
Should your team use Thunderbird for shared email?
The unified view is an organized way for one person to view multiple email accounts. However, if any of those accounts are shared addresses like info@, sales@, or support@, then trying to manage those in Thunderbird—unified view or not—may actually cause more problems for your team.
Thunderbird's unified view is an individual setting. It might organize your view on your computer, but it isn't collaborative—you still can't see who's responsible for which message or keep the team inbox dynamically organized and streamlined. Since you're still working individually, Thunderbird won't help your team save time or get more done collectively. 
There are other more modern tools, like Outpost, that can help your whole team respond faster to customers and spend less time managing email.
Outpost is built for team collaboration, so your shared addresses can stay in sync and emails won't fall through the cracks—no matter how many people are collaborating. Features like assignments, private internal notes, and collision alerts make it so that everyone can work in the same inbox, without stepping on each other's toes.
You can also get real-time analytics and see any conversation's full history, which makes it really easy to track and improve your team's email response time. 
Here's what Blake, a long-time Thunderbird user who switched his team to Outpost, says: "[Our] customer email communications and internal communications have been greatly enhanced."
"Our staff can leave internal notes about communications within the email notes. We can track communication response times as well, which has helped our team with better productivity and customer service." 
If you want an organized inbox view for just you, Thunderbird can do that. If you want to help your team be more productive, more responsive, and more collaborative, then you should try Outpost for free.
Our team is available to help you get set up. If you'd rather start with a custom tour to see how Outpost can work for your team, schedule a free call.
Posted in: Email